Bansidhar pharma -

Products
TECHNOLOGY
Fibre drums are made of liner & barriers determined by the products to be packaged wounded into the product to be packaged wound in to the inner side of the middle piles or outsides the basic Fibre body by selecting proper liner of barrier the fibre drums can be used for more aggressive materials. The bottom of the drum is made of barrier line kraft paper board or Plywood or Hardboard and crimped on the body with a galvanized, steel, chime band the cover or lid can be galvanized steel plastic, line kraft or plywood according to customer's requirement. The lid is secured to the top crimped on chime band with a rust-proof, galvanized steel locking bank with a lever action handle.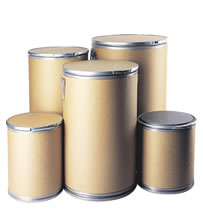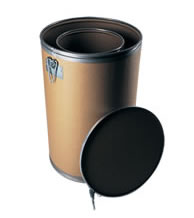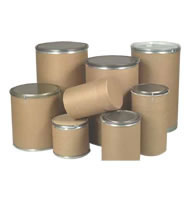 USAGE
Fibre drums are used in bulk drug, drug intermediates, chemical pesticide, dye intermediate, food industries & many other usages, Fibre drums are available in different 9 main diameter, 50 common height, and with 8 principal liner, with different varieties of product as per customer's requirement in size & structure of fibre drums. We are capable of meeting all type of customer's requirement as per their specifications and cater to their demand which is carefully analyzed in terms of specification, performance and life product.
ADVANTAGE
Light weight.
Easy to handle
Economical in transportation.
Pilfer proof, moisture & rust proof.
Outside printing with polythene wrapper to safeguard from scratches / damage of fibre drums and internal zinc coated as per customer requirement.
TECHNICAL SPECIFICATION
Paper of drum:
Top ring:
Bottom ring :
Plywood top :
Plywood Bottom :
Paper tube winding:
Top & bottom ring:
Adhesive:
250 to 300 gsm & 12 to 35 BF
50 mm or 60 mm to 0.5 mm to 0.7 mm
60 mm to 100 mm 0.5 mm to 0.7 mm
6 mm, 7 mm, 8 mm Thick
6 mm, 7 mm, 8 mm Thick
Parallel
Galvanized steel
White dextrine of maize product
PHARMACEUTICAL INDUSTRIES
Fibre drums are suitable for transporting and storing bulk pharmaceutical powders tablets, capsules and active ingredients.
FEATURES
These are Cheaper than metal and plastic drums and as Versatile Biodegradable and Environment friendly.
SPECIALISED INDUSTRIES
Using our expertise and knowledge we have successfully developed a range of drums suitable for use in industries such as laminate sheets, rolls, coils, etc.
| Size of paper Drums | Max.weight to be Packed | Combinations Given |
| --- | --- | --- |
| 254 mm to 610 mm Diameter | 10 Kg. to 250 Kg. | All kinds of Liners on the inside and outside. End are either Plywood, Hardboord, Plastic, Metal or paper. |
CABLING & WIRING
Pay-off paks have been designed to improve productivity in terms of transportation and handling of wires and cables.
CHEMICAL INDUSTRY
Our UN approved Fibre Drums are suitable for the transportation of hazardous materials, such as flake granular and solid products.